Fact: The Fireplace and/or Chimney Will Probably Be Overlooked until after
you've Invested Thousands of Dollars on Your New Home.
Fact: You Will Hire A Home Inspector!
Fact: You Will Think Your Home Inspector Thoroughly Examined The Chimney
And/Or Fireplace!
Fact: After Purchasing Your Home You May Find Otherwise!
Fact: 70% To 80% Of Fireplaces And/Or Chimneys That I Inspect Will
Have Substantial Damage That Is Hidden With-Out The Use Of An
Interior Video Chimney Inspection!
The truth is, since 2000, the National Fire Protection Association (NFPA) has
created "Industry Standards". These standards state that all chimneys and fireplaces shall have a level 2 inspection performed prior to sale or transfer of
the property. A level 2 inspection includes video scanning of the chimney interior
as well as other often overlooked areas.
Your home inspector is not bound by these standards. He or she is bound by the ASHI standard of practice. The ASHI standards are as follows:
The inspector shall:
the system components.
the vent systems, flues, and chimneys.

the fireplaces and solid fuel burning appliances.
the chimneys.

12.2 The inspector is NOT required to:
the interiors of flues or chimneys.
the fire screens and doors.
the seals and gaskets.
the automatic fuel feed devices.
the mantles and fireplace surrounds.
the combustion make-up air devices.
the heat distribution assists whether gravity controlled or fan assisted.

ignite or extinguish fires.
determine draft characteristics.
move fireplace inserts or stoves or firebox contents.
Inspections performed in accordance with these Standards of Practice:
are not technically exhaustive.
will not identify concealed conditions or latent defects.
These guidelines are copied right from the ASHI Standards of Practice!
You see, it's not the Home Inspectors job to perform level 2 chimney
inspections. Most do not possess the tools, i.e. dust control, digital
video inspection with recording capabilities, tall ladders, training, etc.
to perform this important service. He is not a specialist nor should he
have to be one. His job is to alert you of potential problems pertaining
to any given system in the house i.e. fireplace or heater chimney,
plumbing, furnace etc.
At Magnum CI, LLC, our focus is on the fireplace and/or chimney system of
your dream house. Here's what we do:
Magnum Performs The NFPA 211 Required Level 2 Chimney Inspection.
We Sweep The Fireplace And/Or Chimney System If Needed.
We DO NOT Repair Fireplaces/Chimneys;
That Would Constitute A Conflict Of Interest.
Magnum CI, LLC is qualified to take care of this inspection for you. We are:
Certified fireplace and chimney inspectors through F.I.R.E.

Services. (Fireplace Investigation and Research Education Service).

Certified through CSIA (Chimney Safety Institute of America)
Member in good standing with the NCSG and NJCSG.

(National and New Jersey Chimney Sweep Guilds)
What Could Possibly Be Wrong With The Inside Of A Chimney That
Couldn't Be Detected With A Flashlight?
I'm Glad You Asked!
Let's Take a Look…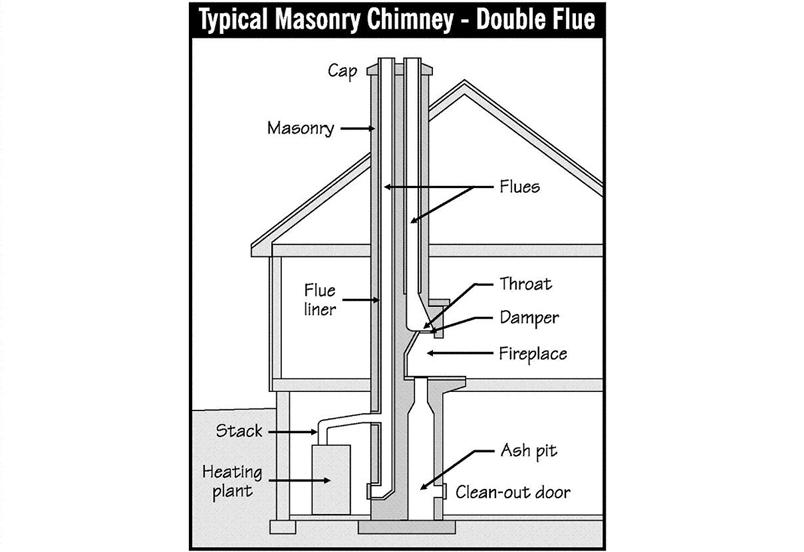 Looks Simple Enough, Right?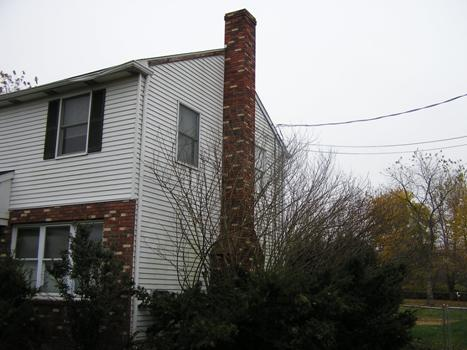 Let's Look Inside This Perfect Looking Chimney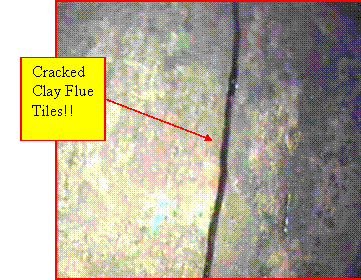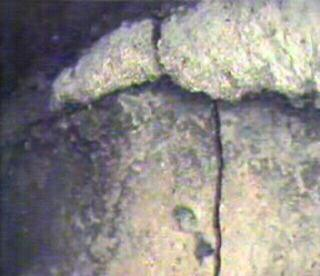 This fireplace chimney has serious defects. These cracks may pose a potential hazard.
The purpose of these clay flue tiles was to keep the intense heat and products of
combustion IN the chimney. These clay flue liners can no longer perform their
intended function. Replacement is necessary before this fireplace can be used.
A repair estimate here could be $4000.00 to $4700.00. Wouldn't you want to know
before you bought the house?
Another Innocent Looking Fireplace Chimney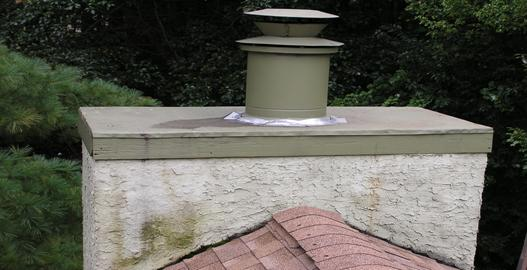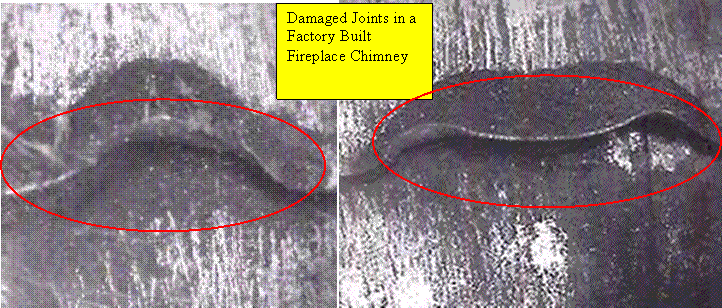 This is a factory built fireplace chimney, commonly found in new construction.
During installation, it appears as if the chimney pipe wouldn't cooperate so the
installer pried it together with a screwdriver. A potential fire hazard is what
remains. A replacement cost of $3000.00 to $4000.00 is not unlikely here.
Would you want to know before buying this house?
We Would Too!